Our customers (and their owners!) are the most important thing to us. We strive to make sure everyone has fun, stays happy, and has a safe, exhausting day with us. There's nothing we love more than hearing from folks how we're doing, so if you have anything to add here, concerns that need addressing, or just want to ask a question, please email us at info@dogdaystempe.com.
Janeal & Lucy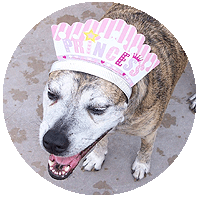 I take owning a pet very seriously, so making sure that the love of my life, Lucy is happy is a high priority to me. I know that Lucy would be fine at home every day while I am at work, as she is not the most active dog, but taking her to Dog Days three times a week is like a trip to Grandma's for her.
Lucy loves all the other dogs that she gets to play with every day, but if truth be told, I think she loves the humans the most. She has no idea that the reason I chose Dog Days and have continued to take her there year after year is because of the people that run it. We are both always greeted by name every drop-off and pick-up and that is just the beginning. There are times when Lucy is brought out to me to take home and she is kissed, hugged and told "I love you" by whoever brings her out. I am extremely comfortable with the evaluation process that Dog Days uses to make sure that new dogs are suitable for the environment and the Human to Dog ratio in the play areas ensure that the dogs are always supervised to a level that I am also comfortable with. Lucy gets to play outdoors with toys and obstacles and water when she wants to and then she gets to play inside and lounge around on couches and futons and cuddle with other dogs and humans (her favorite part) when she is tired. She gets it all at Dog Days! And I love how clean, bright and welcoming the facility is, not to mention, they give baths and trim nails right there on site! I would, and I have recommended Dog Days Daycare and Boarding to anyone who is looking for a fun, clean, safe place for their furry four legged children to play for a day or to spend a weekend or more. Lucy and I could not be happier with the service we receive. Thank you Meghan and your amazing staff!
Lindsay & Dexter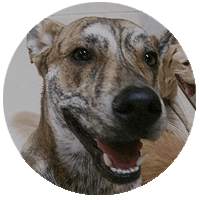 Dog Days has quickly become our dog's home away from home. He LOVES it there. Sure, I was a frantic, overprotective dog mom the first time we dropped him off but my fears were quickly dissolved when I realized the quality of this facility.
The day care section is divided into a 'big dog' and 'little dog' section. The dogs are closely watched at every moment to ensure safety for all. The employees are very attentive and know everyone's names by heart (it's the little things, after all.) Also, this place is crate free, meaning you don't have to pay extra for your dog to play with others all day. They are only crated if being fed a meal or if they are being boarded overnight.
Megan, the owner, is great and very reassuring even to neurotic pet owners like myself. The first time we boarded Dexter for a long weekend, we called twice a day to check on him. She was kind and patient, explaining to us during each call that he was having the time of his life.
Dexter's visits are now a weekly occurrence and one I know he looks forward to. These trips are mutually beneficial as he not only has fun but is completely exhausted afterwards, giving his parents a much needed night off. Love Dog Days and plan to be a long and loyal customer!
Melissa & Meatball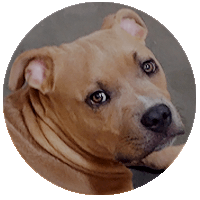 Dog days has quickly become a favorite place for our dog Meatball. He LOVES it. I can barely keep him from jumping out the window of my car when we are pulling up.
The owner Megan was great about explaining everything they do there and gave me a tour the first time I stopped in. There are two sections, one for large dogs and one for small dogs. The employees play with the dogs all day and I can be sure that Meatball will come home tired from playing.
They have a 1/2 day rate ($15) and a full day ($30) rate. It may be a bit pricier than a few other places I looked at, but totally worth it. It's also right by my house, so that makes it that much better.
Meatball is still a puppy so we are still feeding him three times a day. I dropped him off one day and forgot to leave his lunch (bad mommy). When I returned a few hours later to drop it off, they had already fed him! That was AWESOME!
I trust the employees and am completely satisfied with the experience we've had so far. I feel good about leaving him for our out-of-town trips. We will continue to be a loyal customer. Thanks Dog Days!
Want to read more reviews? Check us out on Yelp!